I was invited to check out brunch at Rasa, a fairly true-to-self Malaysian restaurant in the West Village. It was pretty eye opening as to what Malaysian people typically eat for breakfast/brunch. Above is my Malaysian white coffee; I'm not a coffee expert, but can tell you it was milky and sweet, and highly caffeinated as I was practically shaking by the time we left (I'm caffeine-sensitive). Tasty nonetheless.
I dragged my friend Eric, who now has had Malaysian food exactly twice, and both times with me. This meant that he was totally cool with me basically ordering for him (within reason) – so we both ordered from the brunch menu, and he started with the roti canai. I have this dish regularly when I eat Malaysian; a thin crepe-like pancake that's stretched out and chewy, with crispy parts from the griddle time… dip it in the accompanying curry. I liked their version, and found it satisfying while the curry wasn't too spicy for me.
I started with the old fashioned Malaysian French toast with soft boiled eggs and fruits; interestingly, I was directed to break my soft boiled egg into the bowl. I didn't fully understand because my soft boiled eggs at home tend to be a little harder cooked – the whites fully solid, while the yolk is liquid, but these were soft enough to dump in. They added soy sauce, white pepper and salt to my soft boiled egg and I was directed to dip the French toast into the egg mixture, which created a creamy salty-sweet bite. I thought this was very unique and interesting; I don't know that I'd seek this out but it was not unpleasant. I just don't personally tend towards the heavier breakfast items like this on a brunch menu – I am not one to order pancakes or French toast, ever.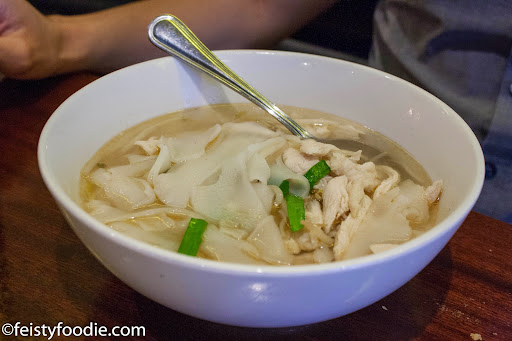 As Eric was apparently slightly hungover, Camie (one of the owners) suggested he have clear broth kuey teow, with chicken, chives, beansprouts, flat broad rice noodles in a clear broth. I tried a sip of the broth and found it very "sweet" (like chicken soup sweet), and fairly soothing; were I not feeling well or hungover (if I got hangovers), I could see this totally hitting the spot. There was also a hot sauce served on the side that Eric decided to dump in – he's a chili-fiend – that I think he enjoyed. I avoided that.
Taking Camie's recommendation again, I ordered the dry tossed wonton noodles, with fried wontons, beansprouts, Chinese broccoli, scallions, fried shallots & green chili with thin egg noodle.
I loved my noodle dish! rich with soy sauce, chewy noodles, and balanced nicely with bean sprouts and broccoli, I happily slurped down my noodles.
I also enjoyed the small bowl of broth with crispy wontons on the side. Somehow the wontons managed to stay crisp, and the broth was a nice balance to the richness of the soy sauce noodles.
I thoroughly enjoyed my introduction to Malasyian brunch, and highly recommend the experience to anyone looking for something different from your usual brunch fare. Your choice of (non alcoholic) drink, plus an appetizer and a main dish for $14.95- it's a pretty good deal, considering I was pretty full afterwards and ready to walk it all off (I think I wound up walking to 34th Street before jumping on the subway).
Check it out!
Please note that I enjoyed brunch courtesy of the restaurant, but was under no obligation to post about this nor did I receive monetary compensation to do so. Thank you again for your hospitality and the lovely introduction to Malaysian brunch!