This might be one of the fastest turnarounds for a post, ever. (I say one of because I know once upon a time, I would attend food festival events and bust my butt to get them out by the next day.) Honestly this is because I have run out of material to post.
Ahem. ST visited NYC this past weekend, and since we've been talking about going to Talde since forEVER (or since we first started talking), we finally made a trip… and waited… for over an hour for a table. Y'all know that I don't like waiting for things – especially when I don't know if they're going to be good – so you KNOW I must like ST a bit. She's lucky she's pretty, put it that way. Haha.
Once seated, we ordered a wide range of bites to share, and some not. Apologies in advance for the photos – the dark paneling around our booth and the dim light didn't help with my shutter speed at all, and I can't be that still for that long!
Pretzel pork and chive dumplings: nice crust, spicy mustard dipping sauce, but not rave worthy.
Kung Pao chicken wings – I actually don't think I've ever had Kung Pao chicken – is it always this spicy? Honestly, these wings were very reminiscent in texture of Korean fried chicken. Which is excellent. Fried expertly with a great crust but still slicked with sauce, these were really good wings. Too spicy for me? Yes, even with the buttermilk ranch provided for the spice-weak amongst us, but still very tasty.
Hawaiian buns (look, you can see ST in the background taking her own pics!) – fish, mushroom, and pork. I ate half of a pork one and half of a fish one – I found the fish to be dry, while the pork one would have been good if it'd had enough pork. The sweetness of the Hawaiian bread offset the savory innards nicely, however – I do love Hawaiian buns! (King's Hawaiian is my go-to brand.)
I insisted on ordering the kale salad, though ST derided kale as 'filler' – haha. Kale with persimmons, pickled beets, candied almonds and creamy ponzu dressing – I really enjoyed this salad. There's something to be said about a well-made salad; it might not win you friends, but the combination of textures – the crunch of the almonds, the juicy persimmons and beets, with the rough leaves of the kale all worked really well together, as did the flavors. The persimmons were super sweet and juicy, and I thoroughly enjoyed more than my share (it's okay, one of the guys "doesn't eat anything green" so I just pretended I was eating his portion).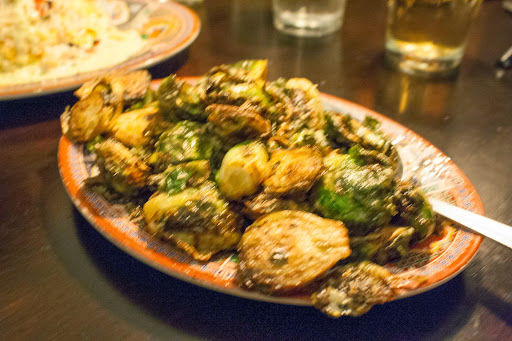 The market vegetable of the day was wok charred Brussels sprouts, which came deliciously charred, cooked perfectly, and seasoned liberally with a vinegar of some sort. We all thoroughly enjoyed this (even the guy who doesn't eat green things; the argument was that because they were charred, they were no longer green).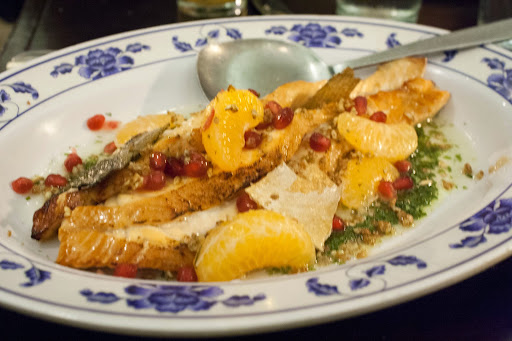 Miso salmon – while I didn't try this, it was quite a large dish. ST tried it and said the miso wasn't very apparent, though the two who ordered this dish seemed to really enjoy it.
Cheese ordered the wonton noodle soup – look at the heart scallion on his egg! – which came looking like this… looking so much like ramen that I can only say that this IS ramen. Delicious pork bone broth – rich, without being overly fatty – and wonderfully chewy noodles, a nicely soft boiled egg, wontons… Cheese was over the moon thrilled with his dish. He raved about it to me several times and told me that he could easily return just for this, and that it was excellent.
I chose in a rush – I don't know why – and just went with pork belly which also came with Thai pork sausage. I did NOT like the sausage; it was dry and the flavor was pretty muted for me. However, the pork belly was fatty yet crisp; juicy and delicious. I enjoyed that with bites of cilantro and the spicy cucumber kimchee alongside. Fatty pork belly like this should be served with something carby to soak up that fat, I feel, but no matter… we'd ordered something else as well.
King crab fried rice with tobiko and jalapeno aioli, NBD. Can I tell you how delicious this rice was? While I wouldn't call it fried rice – the texture wasn't quite right – it was more of a mixed rice dish – it was so good that I am not even going to nitpick the naming of it. I mean, each grain of rice gently coated with this jalapeno aioli; each bubble of tobiko bursting gently with salinity in each bite; and huge, sweet chunks of King crab generously interspersed throughout. Holy cow, this was GOOD. While I probably won't go to the trouble of buying king crab at home, I can definitely see myself mixing up a big bowl of rice with tobiko and *cough because I've never done this before* a bit of mayo… maybe Sriracha instead of jalapeno.
*Actually I used to frequently make spicy masago spread for my bread, now I'm just going to toss it with rice instead… it's sooo good… mmm
Apple pie hot pot; 3/5 of us did not want dessert but ST and doesn't-eat-green-things (and also doesn't-like-potatoes; whaaaaaa?) did, so they split the only dessert offering: apple pie hot pot with caramelized apples, shiro miso golden raisins, topped with a rice topping and creme anglaise… I didn't try any.
Overall – while the meal had some standouts and some mediocre points – I thoroughly enjoyed most items and wouldn't complain about going back, if there was no or an abbreviated wait. Though it's quite far from where I live, I was surprised by how much I enjoyed certain items – the fried rice! the salad! – and found some prices outrageous and others quite reasonable. Hmm. I guess it's a mixed bag – it's pretty unlikely I'll return (because of the wait and the location), but I did really enjoy many of my dishes. Ah well.
BTW, if such things excite you, Dale Talde was walking around the restaurant for almost the entire time we were there. I don't know if he was going to every table to say hi, but he came by our table to talk to ST for a while. Like I said… she's very pretty. 😉