Forgive me, dear reader, for I am still on a sugar high. Recently, I attended Dessert Professional's 17th Annual Top Ten Pastry Chefs in America 2010 Awards where I got to rub elbows with lots of important people in the pastry world and eat lots of gorgeously-presented yummies.  Seriously, if I were to die right now, I want it to be among the fabulousness that was offered to those of us in attendance. Just let me fall back (daintily, if you please) onto a bed of Nicholas Lodge's Chapeau Chic pastries and Frank Vollkommer's Pistachio Financier.  More on that later.
There I was, brand-new to the world of media events, wandering around the Institute of Culinary Education (where the awards were held) feeling a wee bit unsure of myself when I walked into the Wine Room and was greeted by this: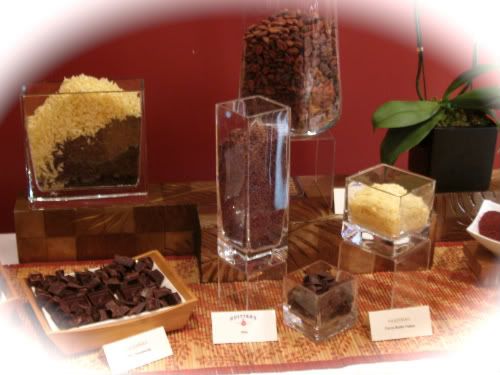 Heaven, aka E. Guittard chocolates
Would it be too purplishly-prosaic to say that I heard the angels sing when I saw this display of E. Guittard chocolates?  I had to remind myself that the Feisty Foodie would not take kindly to the news that her newest blogger was kicked out for rolling around on the Guittard table in gluttonous glee.  I contented myself with tasting just one piece of each chocolate and mentally patted myself on the back for my restraint.  It also helped that I was holding a glass of champagne; it kept me from grabbing a plate of the chocolate and grunting viciously at anyone who came near.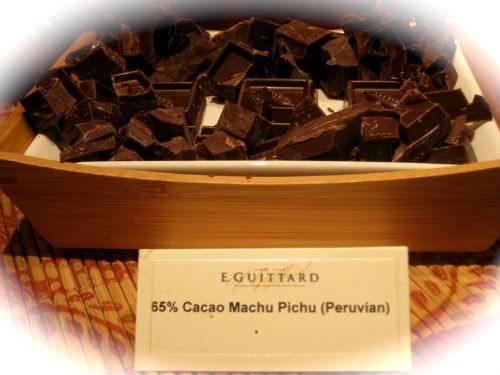 In honor of the Feisty Foodie's recent trip to Machu Picchu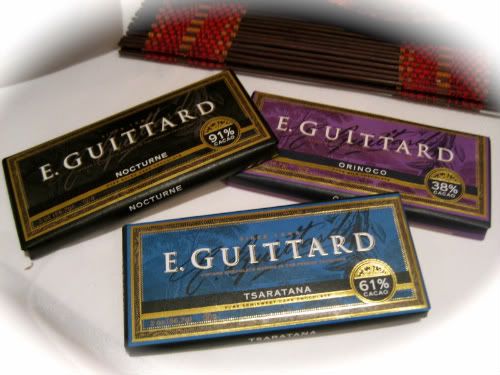 I am supremely grateful to Melissa Zhang (the PR representative for this event) for smoothly introducing me to various people, including one of the honorees, Michelle Tampakis, whose sister took the following photo:
Michelle Tampakis and the Blind Baker
Michelle and I had only a moment to pose and exchange pleasantries as she and the other pastry chefs were being bombarded by my fellow media hounds for attention.  She and Kimberly Bugler were the only female award honorees out of ten, which is not unexpected in the male-dominated culinary and pastry world but was still a bit of a disappointment to me.  I wanna see more women in the top ten!
Okay, social issues aside, the list of 2010's Top Pastry Chefs in America (in alphabetical order):
Christopher Boos of Dunkin Brands (yes, the donuts and coffee people- they also own Baskin-Robbins)
Kimberly Bugler of the 21 Club, New York, NY
Steve Evetts of the New York Marriott Marquis, New York, NY
Bill Foltz of L'Auberge du Lac Casino in Lake Charles, LA
Yannis Janssens of Fontainebleu Miami Beach, Miami, FL
Nicholas Lodge of the French Pastry School, Chicago, IL
Roy Pell of The Phoenician, Scottsdale, AZ
Michelle Tampakis of the Institute of Culinary Education, New York, NY
Robert Truitt of Corton Restaurant, New York, NY
Frank Vollkommer of The Chocolate Mill Pastry Shop and Café, Glen Falls, NY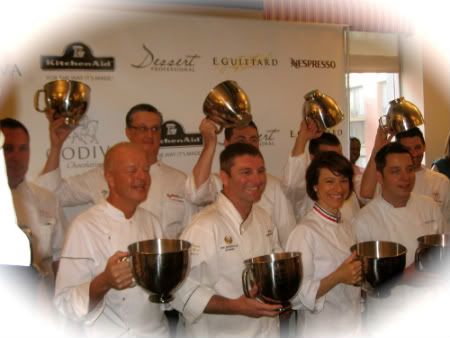 The 2010 winners with their engraved Kitchen Aid mixing bowl trophies
Although I can't stand Bobby Flay and stopped watching The Food Network partly because of him as well as a couple of other FN personalities, and partly because of the channel's Hollywood-ization, I was kind of excited about being in the same room as his assistant Miriam Garron, who presented this year's winners.  I think she's the unsung hero of "Throwdown With Bobby Flay" and wish she'd get a bit more credit for her work.
I was also excited to meet and briefly chat with Gary Guittard, President & CEO of Guittard Chocolate Company and a 2010 Candy Hall of Fame honoree.  I was a little tongue-tied around him.  I mean, it's kind of like what I imagine meeting God would be like–the man is the king of my favorite food, for cryin' out loud!  He laughingly related the story of how, when he was just starting out in the business (his great-grandfather, Etienne Guittard, started the company,) his new coworkers took him out in the company truck and dropped him in the middle of nowhere so he could make his way back on his own.  Awesome!
Next up: the gorgeous yummies provided for our palates' pleasure!